2015 Graduates application form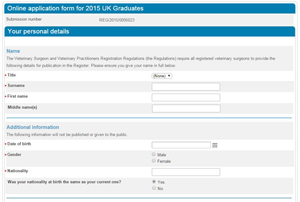 UK Graduates for 2015 should complete and submit the Online application form for 2015 UK Graduates. Please note that the form takes a few moments to load.
The application form should be submitted by Friday 22 May 2015 at the latest.
There are seven veterinary schools in the UK which award degrees that have been approved by the RCVS:
Royal Veterinary College London
Graduates from any of these schools would be eligible to register as a member of the RCVS once their degree has been conferred.