Terms of Reference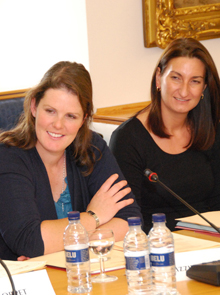 The RCVS Veterinary Nurses Council was established in 2002 and replaced the Veterinary Nurses Committee.

It has overall responsibility for all matters concerning veterinary nurse training, post-qualification awards and the registration (listing) of qualified veterinary nurses. (View full terms of reference)
Members
The VN Council comprises veterinary nurses, veterinary surgeons and lay people - details of whom are provided below. The veterinary surgeons are drawn both from RCVS Council and appointments made by the VN Council.

Veterinary Nurses
Miss Elizabeth Branscombe RVN - Vice-Chairman

Mrs Elizabeth Cox RVN

Mrs Elizabeth Figg REVN

Mrs Andrea Jeffery RVN

Mrs Katherine Kissick RVN - Chairman

Miss Suzanne May RVN

Miss Hilary Orpet RVN

Mrs Amy Robinson RVN
Veterinary Surgeons
Mrs Elizabeth Armitage-Chan MRCVS (non-RCVS Council)

Mrs Victoria Aspinall MRCVS (non-RCVS Council)

Mr Niall Connell MRCVS

Miss Christine Shield MRCVS
Lay members
Mrs Alison Carr

Mr Dominic Dyer

Prof Sue Proctor

Mrs Penelope Swindlehurst
Committee Secretary
Annette Amato (T 020 7202 0713, E a.amato@rcvs.org.uk)
Meeting dates and papers
View the VN Council meetings page for meeting dates and links to VN Council agendas and papers.
VN Council membership of other Committees and Sub-committees
Members of VN Council also sit on a number of other RCVS Committees and Sub-committees.
The full terms of reference of the Veterinary Nurses' Council are as follows:
To maintain the list of veterinary nurses referred to in Schedule 3 to the Veterinary Surgeons Act (1966).
To establish and keep under review standards of proficiency for safe and effective veterinary nursing practice, including requirements for admission to the list referred to in 1). and the training and examinations to be undertaken.
To ensure compliance with the requirements of the SQA and QCA (or their successor bodies) relating to S/NVQ awards in veterinary nursing.
To establish and keep under review standards of good character and conduct required for listed veterinary nurses and to develop a voluntary system of regulation.
To establish and keep under review schemes for post-qualification training and continuing professional development for veterinary nurses, and the outcomes to be achieved, with a view to recording an additional entry in the list referred to in 1).
To recommend to the Planning and Resources Committee a budget and levels of fees to be charged for awarding body functions, qualification, listing and post qualification diplomas.
To recommend to the Council amendments to the Veterinary Nursing Bye-Laws and Advanced Veterinary Nursing Bye-Laws.
To oversee the work of the Awarding Body Management Group, which will be responsible for the detailed administration of the Veterinary Nurse Training Scheme.
In exercising its functions, the Veterinary Nurses' Council shall ensure that the welfare of animals and good veterinary practice are central to its work.