13 March 2017
We have published our three 'Brexit Principles' which constitute a framework for navigating the risks posed to the veterinary industry by the United Kingdom's exit from the European Union, while maximising the opportunities it offers.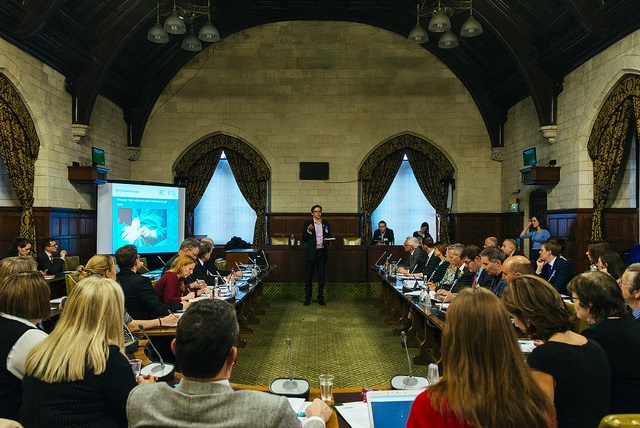 The Principles were formally adopted by RCVS Council at its meeting on Thursday 2 March 2017, and will now serve to guide our relationship with the Government during the forthcoming Brexit negotiations.
The Principles were drawn up over a series of months by the Brexit Taskforce, set up by our President Chris Tufnell in July 2016, and were discussed in draft form in a number of forums including a 'Brexit roundtable', co-hosted by us and the British Veterinary Association (BVA), at the Palace of Westminster on Friday 24 February (see picture above).
This event aimed to create a unified voice within the veterinary profession on shared goals. Representatives from the Department for the Environment, Food & Rural Affairs were also in attendance and Nigel Gibbens, the Chief Veterinary Officer, thanked us for positively engaging with the Brexit process.
Each Principle is supported by a number of specific policies that we will lobby for in the coming months, all designed to positively engage with the post-referendum reality and with government policy. The Principles are: that vital veterinary work continues to get done; that high standards of animal health and welfare remain and improve; and, that the RCVS is a global force for good.
The first Principle, that 'vital veterinary work continues to get done', reflects concerns that potential immigration restrictions could cause significant labour shortages in the UK, particularly in the meat industry and in public health. Policies attached to this Principle include lobbying to ensure that EU vets and veterinary nurses currently working in the UK are allowed to remain indefinitely, and in the longer-term ensuring that any reduction in numbers from abroad is offset by an appropriately-funded increase in home-grown talent, while upskilling and extending the role of veterinary nurses.
To promote the second Principle, ensuring that 'high standards of animal health and welfare remain and improve', we will work towards advancing standards of global accreditation, and – once concerns about workforce shortages have been allayed – argue that any restrictions placed on the number of EU graduates registering in the UK should be focused on schools that do not have European Association of Establishments for Veterinary Education accreditation.
Further to the third Principle, that 'the RCVS is a global force for good', we will seek to ensure that: the rights of UK vets working in the EU are preserved; that UK vets working abroad continue to be held up as exemplars of the profession; that our global membership continues to grow; and, to develop a world-leading evidence-based veterinary medicine hub that will transform animal treatment globally.
Our Chief Executive Nick Stace said: "It is crucially important for the College and the profession as a whole to think boldly about the post-Brexit future; we cannot expect government to give us all of the answers, instead we must work to find solutions ourselves so as to shape the future of the profession from within."
We have also asked the Institute for Employment Studies (IES) to undertake research into the attitudes and intentions of all EU-graduated veterinary surgeons and veterinary nurses currently working in the UK.
They will all have receive a personalised email from IES with a link to this online survey, and their answers will help inform our approach to Brexit. This research will help us to understand better the impact that Brexit may already be having, how it can support EU veterinary professionals working in the UK, and build an evidence base regarding the potential impact that Brexit may have on the veterinary workforce.
For more information on our Brexit activities, please visit our dedicated Brexit page.