The Golden Jubilee Award is an accolade recognising outstanding commitment to and leadership of the veterinary nursing profession.

The award was first launched by VN Council in 2011 to mark the 50th anniversary of the first RCVS veterinary nursing training scheme and to recognise outstanding service to the profession. Nominations for the award are invited every year and it is given out at RCVS Day - our Annual General Meeting and Awards Day.
What we are looking for

The full award criteria can be found in the nomination form (see 'Related documents') but, in essence, we are looking for someone who is a leader of and an ambassador for the profession; whose drive and determination is helping to raise greater awareness of veterinary nursing issues within the veterinary professions, the public and other key stakeholders.
Liz Cox, Chair of VN Council, explains: "We want those who are nominated to be people who are pushing forward the profession, whether that be clinically, politically or in terms of raising public awareness of what we do.
"Nominees for the award must be people who are proactive and passionate in campaigning on behalf of the profession and who are taking on an ambassadorial role for it – for example, speaking about current issues and initiatives at congresses, events or with local or national media."
Previous winners - what it means to them

So far there have been four winners of the Golden Jubilee Award. Here, each of them says what winning the award meant to them and how veterinary nurses can become leaders in their profession - and beyond.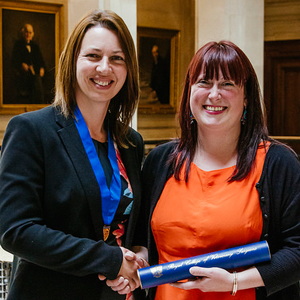 Dot Creighton (2015)
"There are many incredibly talented and inspiring nurses who are ambassadors to our profession, as they make and continue to make a lot of impact in their own work setting as well as to animal welfare and the profession. These are the nurses that are ideal candidates to be recognised through the Golden Jubilee Award."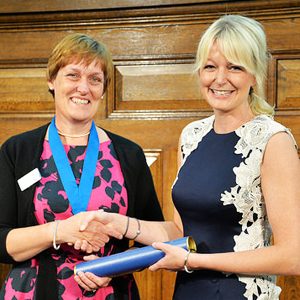 Hayley Walters (2014)
"Winning the award has certainly helped with getting more respect when I lead veterinary nursing projects overseas and so I am very happy to have received it."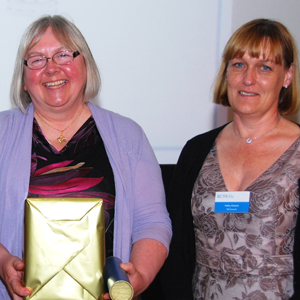 Sue Badger (2012)
"I was overwhelmed to become the second recipient of the Golden Jubilee Award in 2012 and to say that it was a complete surprise is something of an understatement. I do not consider myself to be any more remarkable than dozens of other veterinary nurses, many of whom have contributed significantly in a variety of ways, from the promotion of the highest standards of animal welfare to the training of future RVNs."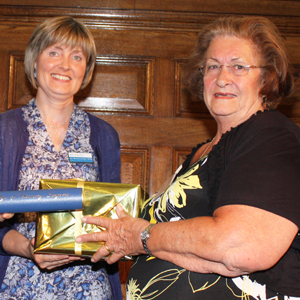 Jean Turner (2011)
"I have immense pride in the veterinary nursing profession and am still overwhelmed by receiving the very first Golden Jubilee Award. I frequently look at the certificate mounted in our study and use the lovely engraved bowl! As the first recipient I look on it as an award for all the veterinary nurses who have worked with me and helped me over many years."
History of the Golden Jubilee Award
Despite being a relatively young profession, veterinary nursing has come a long way since 1961, when it was first recognised with the RCVS-approved Animal Nursing Auxiliary (ANA) training scheme. You can view a timeline of the development of the profession on the RCVS Knowledge website.
In 2011 we celebrated the profession's Golden Jubilee with a wide variety of activities including a seminar on the past and future of veterinary nursing, a reception at the House of Commons and our 'Step forward' campaign encouraging more people to join and advance their career in the profession.
The presentation of the inaugural Golden Jubilee Award was the highlight of this celebratory year and we are delighted to continue to make this award, to honour the achievement of members of our developing profession.
How to nominate
If all of the above sounds like someone you know - please make sure to nominate them for the award!
Nominees must be veterinary nurses, but nominators can be veterinary nurses or veterinary surgeons. The two additional proposers can also be laypeople.
The deadline for nominations is Friday 21 October 2016 - full details of how to make a nomination can be found in the nomination form (see 'Related documents'). Please note that nominations for current VN Council members will not be considered.