Biography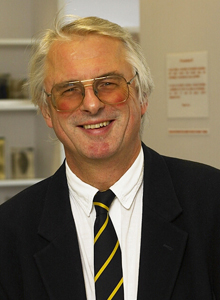 Sandy Trees qualified from Edinburgh's Royal (Dick) School of Veterinary Studies in 1969.
Following a research expedition to Kenya and a year in mixed general practice, Sandy completed a PhD on bovine babesiosis, and then worked at Elanco (Rome) as veterinary advisor for their Middle-East/North African operations.
In 1980 he was appointed Lecturer in Veterinary Parasitology at the University of Liverpool based in the Liverpool School of Tropical medicine, became Professor of Veterinary Parasitology in 1994 and then Dean of Liverpool's Faculty of Veterinary Science from 2001 until 2008.
Funded by over £15m of external grants, Sandy's research has produced over 170 scientific papers and numerous presentations at regional, national and international conferences.
Sandy also maintains an active interest in veterinary education and was President of the Association of Veterinary Teachers and Research Workers from 1996-1997.
He was a Council member of the Royal Society of Tropical Medicine and Hygiene, a founding Diplomate of the European Veterinary Parasitology College and is an Executive Board member of the World Association for Veterinary Parasitology. Retiring from the University of Liverpool in 2011, he is currently Veterinary Editor in Chief of the Veterinary Record and In Practice, and Chairman of the Board of the Moredun Research Institute. In 2012 he was appointed a life peer to sit on the crossbenches.
Council Member category
Appointed (University of Liverpool): 2000 - 2011
Committee membership
Declaration of Interests

Directorships

Trustee, RCVS Knowledge

Earnside Expertise (personal consultancy company)

Chair and Director of the Veterinary Policy Research Foundation

Shareholdings

Consultancies

Veterinary Editor in Chief, Veterinary Record and In Practice magazines (BMJ Publications)

Appointments to other bodies

House of Lords - Crossbench Member nominated through the Appointments Commission
House of Lords - EU Sub-committee for Agriculture, Fisheries, Environment and Energy
Chairman, Board of the Moredun Research Institute, Edinburgh

Membership of other veterinary or allied organisations

Vice-President to summer 2009, EVPC

Executive Board Member, WAAVP

Employment

University of Liverpool 1980 - 2011

Qualifications (other than veterinary qualifications listed in the Register)

PhD

Interests relating to immediate family or close friends

Other relevant information

Invited delegate to Bayer Canine Vector-borne Disease Forum and previous attendee (free 3 day conference)