Biography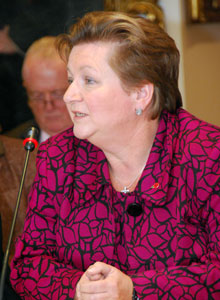 Elizabeth Butler is a practising Chartered Accountant who has held a wide variety of non-executive appointments, bringing both professional expertise and a depth of understanding of risk and governance.
Among other roles, she has chaired the audit committees of the Royal College of Nursing and Hyde Housing Association, and currently chairs the audit committees of the Electoral Commission and the Local Government Boundary Commission for England.
She is also chairman of Lewisham Healthcare NHS Trust.
Committee membership
Declaration of Interests

Directorships

Langley Property Ltd

Shareholdings

None



Consultancies

Self-employed Chartered Accountant

Appointments to other bodies

Chair: Lewisham Healthcare NHS Trust
Independent Chair: Audit Committee, Electoral Commission
Independent Member: Audit Committee, Local Government Boundary Commission in England

Co-opted member for the Audit and Risk Committee of the General Medical Council

Membership of other veterinary or allied organisations

None

Employment

None

Qualifications (other than veterinary qualifications listed in the Register)

BSc FCA

Interests relating to immediate family or close friends

Husband is Chief Financial Officer of Revetas Advisors LLP

Other relevant information

Trustee of Dee Beechinor Trust, 5th Beckenham South Scout Group, Chair of Governors of St Mary's RC Primary School