Biography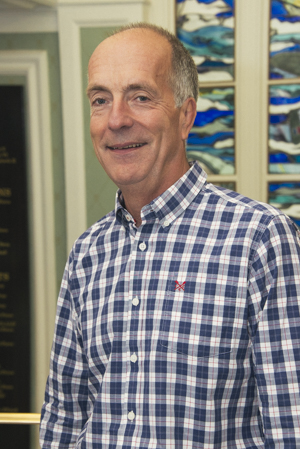 Nick Stuart qualified from Edinburgh University in 1981. His first position was as an assistant in a mixed animal practice in Gloucestershire.
He then moved to Aberdeenshire as the dedicated vet for a very large farming company, creating and managing herd health programmes for 6,000 breeding sows and 2,500 dairy cattle. This interest in pigs led to Nick joining a specialist pig practice, during which time, he travelled to the Philippines to research the viability of a Filipino National Swine Artificial Insemination Centre.
This interest in AI and embryo transfer led to work in the emerging cashmere and angora goat industry and for a number of pedigree sheep breeders; work that took Nick to New Zealand and Germany as well as all over the UK from Devon to the Shetland Isles.
In 1989 Nick purchased a two man mixed practice in Dursley, South Gloucestershire. He merged with a neighbouring practice to form Vale Vets. Today, Vale Vets and Vale Referrals are a solely small animal practice, operating out of two RCVS-accredited Veterinary Hospitals, one in Dursley, the other in Portishead.
Vale Referrals has specialisms in cardiology, medicine, soft tissue surgery, oncology, ophthalmology and orthopaedics with a separate business offering vet led rehabilitation, pain management and hydrotherapy.
Nick's outside interests include sailing, walking and cycling.