Biography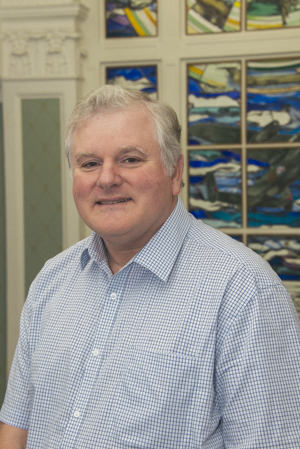 Ean Garner-Richardson graduated from Cambridge University in 1984. He was a little older than most of his contemporaries, having spent nine years as a marine engineer, prior to matriculating.
On graduation, he entered a large mixed practice initially involved in both large and small animal work.
On being presented an opportunity to develop a nearby small animal practice, he departed to Swindon to gain more experience.
In 1987, he returned to the Southampton area where he joined a small animal practice in Romsey. Here, along with his new wife Virginia, he worked to expand the practice. In 1991 The Orchard Veterinary Surgery was born.
Working from purpose built premises in the heart of the small market town, the practice has continued to grow. From its original one-man band in an asbestos shed, it now employs five vets, six nurses and four receptionists.
The practice was incorporated in 2011, with Ean and Virginia taking the roles of Business and Clinical Directors, respectively. The practice was sold in 2013 and both Ean and his wife continued working at the practice until 2015. Ean has since retired from full time employment.
They have moved away from their old practice base in Romsey to a canal side property in Bradford-on-Avon where it is easier to enjoy the relaxation of their narrow boat plying the Kennet and Avon Canal.
Ean became a practice standards assessor when the BSAVA first started its accreditation scheme; he has been with the RCVS Practice Standards Inspectorate since its inception. He is hoping to lend his skills to the new scheme and sees it as a great step forward.