Biography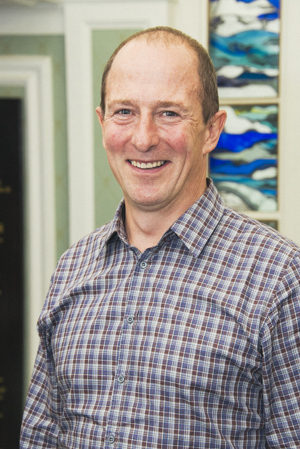 After leaving a quiet farming/fishing corner of Anglesey and heading for the big city, Alwyn qualified from the RVC London in 1986.
He then returned to mainland North Wales, for six months at a mixed practice before heading back to the South East and a high intensity/throughput small animal practice in Essex.
Wanting to see what else the UK veterinary world had to offer, he then spent some time locuming in a range of practices before settling at Moor Cottage Veterinary Hospital in Berkshire. Twenty-five years on, he is still there, mentoring and supporting a strong team, having owned the practice for the last nineteen years and has retained the Veterinary Hospital accreditation throughout this time.
He was on the BVHA Council for ten years including two years as president, helping with the old hospital standards, practice planning and pre-inspection support. Alwyn has also worked on projects with pharmaceutical and laboratory companies and is looking forward to working more closely with the University of Surrey as a satellite practice.
Outside of his veterinary life, he stays busy by keeping fit, enjoying the outdoors and food, both cooking and eating. Alwyn enjoys listening to music and reading widely to keep grounded, along with yoga. He is married to Penny and has two children, Will and Izzy, along with two ex-Cat Protection cats, a tortoise, five ex-battery hens and two stray little black hens of unknown origin.