The VPMA's representation on the Practice Standards Group is shared between Rita Dingwall and Renay Rickard.
Rita Dingwall CMgr MCMI CVPM
Biography
Rita has been the Group Practice Manager of Cinque Ports Veterinary Group/Milbourn Equine and Clayton Jones Referrals since 2005.
The companies consist of seven centres based in Kent and East Sussex and cater for most species; they include an orthopaedic referral centre, two equine clinics and six companion animal surgeries, with approximately 75 veterinary team members. All the centres are RCVS accredited.
Prior to her current position, Rita has worked for three other veterinary practices since 1994 and has also worked in veterinary IT and business consultancy.
Her interest in veterinary practice management began in 1998, when she attended the VPMA congress. Since then she has received a variety of management qualifications and accreditations. Rita served on the Certification and Training Committee for five years and was an examiner for the CVPM (Certificate of Veterinary Practice Management). She is currently studying for a Diploma in Strategic Management.
Rita is a past VPMA President, which enabled her to raise awareness of equine practice management. Rita was the 2008 winner of the VBD Practice Manager of the Year Award, has sat on the RCVS Communications Board until its conclusion and is a member of the In Practice management advisory group.
Rita is a mentor for the Nottingham University Annual Business Games, attends VDS graduate reunions on behalf of the VPMA and has presented at a variety of veterinary and business congresses and symposia. She also contributed to the BSAVA Manual of Practice Management and Development.
Outside of practice, Rita lives with her partner, John, and has three children and six grandchildren. Apart from spoiling her grandchildren, her main interests are cycling, horse riding, skiing, reading, travel and socialising.
Renay Rickard RVN CVPM
Biography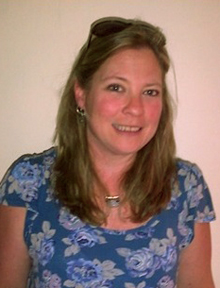 Renay is a committed and experienced manager, having worked in veterinary practice for nearly 30 years.
She originally qualified as a veterinary nurse in 1989, progressing through the ranks and moving into practice management in 2004. She has since gained a Level 5 Diploma in Management and the Certificate in Veterinary Practice Management.
She is also an assessor/internal verifier for veterinary nursing, more recently being involved in the training of clinical coaches at Duchy College in Cornwall.
Renay manages a team of around 85, within a multi-site mixed practice in mid Cornwall. Each site is a RCVS Accredited General Practice.
She has been involved in the inspection process since the original BSAVA standards and, as a new member of the PSG, is looking forward to working alongside the other organisations and members of the committee at this exciting time for the Practice Standards Scheme.
As a member of VPMA Council and as the VPMA regional co-ordinator, Renay is committed to ensuring that VPMA members are actively represented and engaged with over PSS issues and developments.
Outside of work, Renay is busy trying to keep up with her two teenage daughters, and enjoying the Cornish coast and countryside with her dogs. She also enjoys local small music festivals as a way to relax.