Biography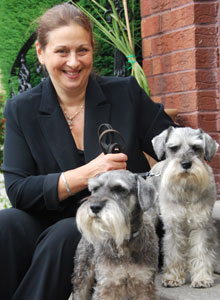 Caroline Freedman graduated from Edinburgh's Heriot-Watt University in 1977 with a BSc (Hons) in Pharmacy, subsequently completing a year's practical experience in retail to become an MR(Pharm)S.
She is a long-standing and grateful client of the Royal (Dick) School of Veterinary Studies' Small Animal Hospital and since 2001 has been involved, in a voluntary capacity, with various fundraising initiatives which include raising £87,600 for an Ultrasound scanner, establishing an equipment fund and involvement with the new £55M vet teaching building.
Caroline received the IFAW Animal Welfare Fundraiser of the Year Award in 2004 at the House of Lords.
In 2010, she was responsible for the concept and project management of establishing a Healing Garden from a 2.5 acre field at the Royal (Dick) Vet Hospital which was televised by BBC Scotland's Beechgrove Garden. Its development is an ongoing project generating future fundraising, as well as enhancing the wellbeing of the students, staff and clients who benefit from this facility.
Caroline became an Edinburgh University-appointed member of RCVS Council in 2005 and sat on the Disciplinary Committee for six years until 2011, during which time she held the positions of Vice Chair and Chair. In 2012 Caroline joined the Communications and Public Affairs Board and the Standards Committee, as well as becoming a member of the Practice Standards Group.
She also chaired the Nominations Review Group, with a remit to appraise the nominations process for RCVS Honours. She was Vice Chair of Standards in 2014 when the extensive consultation reviewing 24/7 Emergency care was carried out. Also in that year she was awarded the British Empire Medal for her services to Animal Welfare in Edinburgh and in 2016 she was appointed as a member of the newly formed Ethics Review Panel.