We have a range of promotional material available to members of the RCVS Practice Standards Scheme to help promote accredited practices.
This video helps to promote the PSS to the animal-owning public, explaining what RCVS accreditation can mean for clients and their animals to encourage people to look for the RCVS accredited practice logo.
A slightly different version of the video is available for you to post on your practice website and social media channels. There's even a subtitled version if you would like to play the video in your waiting room, so you can keep the volume down!
For either of these versions, contact Ben Jones at b.jones@rcvs.org.uk.
Waiting room slideshow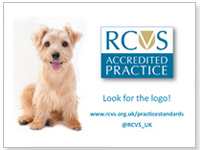 This slideshow takes a light-hearted look at visiting the vets, through the eyes of Norm the Nervous Norfolk Terrier and friends, and gets across some key messages about gaining RCVS-accreditation for your practice, the work involved and the benefits it brings for both clients and patients alike.

It's available in a variety of formats (PowerPoint slideshow, jpg images and wmv video) and in three different screen sizes (4:3, 16:9 and 16:10 ratios).
Please email the PSS team (pss@rcvs.org.uk) to request the link to download the slideshow via Dropbox, stating which format you would like.
Lapel badges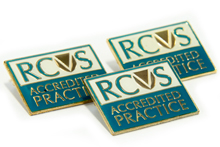 Wear your accreditation with pride! These smart enamel lapel badges can be worn by anyone in the practice team, to help promote your RCVS-accredited practice status to your clients.
The badges are lightweight (just 6g), have a secure brooch fastening and measure 28 x 20mm.
Each badge costs no more than a £1 including VAT (minimum order five badges) and postage, with quantity discounts available.
Please download the order form from the 'Related documents' box.
Bookmarks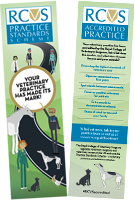 Help your clients to mark their place with an RCVS-accredited practice bookmark.
These bookmarks are to give away to clients, to help promote your RCVS-accredited practice status and provide them with more information about the Practice Standards Scheme and the stringent standards you have met.
Upon accreditation all practices receive a free sample of bookmarks. Further bookmarks cost £15 per 500, including VAT and postage.
Please download the order form from the 'Related documents' box.
Wall plaques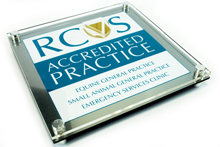 These distinguished-looking wall plaques provide your practice premises with the official RCVS-accredited practice logo, together with the category of accreditation or award received.
Please note that we are in the process of changing supplier and expanding the range of plaques available. If you would like to order a plaque please email the PSS team (pss@rcvs.org.uk) for further details.

PSS logos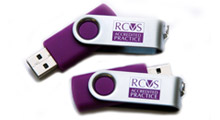 You can use official PSS logos on your practice stationery, advertising, website etc, providing you are an RCVS-accredited practice (see our Advertising guidelines).
Upon accreditation, all practices receive free of charge a memory stick containing logos appropriate to their accreditation category. If this memory stick goes astray, we can email the logos to you free of charge, on request (please contact us).
If you prefer to buy a replacement memory stick, price £10 each, please use the order form in the 'Related documents' box.