The PSS is driven by the Practice Standards Group (PSG), a steering committee chaired by a representative of the RCVS – currently former President Jacqui Molyneux – and comprising representatives from all of the major veterinary and veterinary nursing organisations in the UK.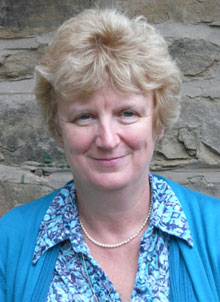 It is responsible for setting and reviewing the Scheme's standards, rules and inspection protocol (these recommendations being subject to ratification by RCVS Council).
The PSG has been heavily involved in the development of the proposals for the new Scheme, as British Small Animal Veterinary Association representative, Pam Mosedale (pictured right), explains:
"I have been involved in previous revisions of the PSS Manual where the standards were just tweaked to account for updates in regulations and increases in expectations for equipment and buildings, and staff training.
"This time is more exciting, as we are looking at incorporating standards for staff, animal and client care, and the way the practice works. These will be more challenging to assess but, along with the existing base standards, should give a better idea of the quality of veterinary work in the practice.
"BSAVA has been heavily involved in small groups drawing up modules on Surgery, Anaesthesia, Pain relief, Out of hours, Emergency care, Nursing, Medicines, Out-patient facilities, In-patient facilities, Laboratory, Clinical Governance and Medical records. This has been time consuming but very rewarding.
"BSAVA has consulted with its members via its website, Companion articles, surveys and a workshop at Congress. I have fed back the results of all these to the PSG and they have been taken into account by the PSG, along with feedback from all the other organisations.
"After every meeting I feedback to BSAVA officers and committees, and this information is used to plan the next consultation with BSAVA members."
Meanwhile, the representatives from the Veterinary Practice Management Association (VPMA) are the Association's former President Rita Dingwall and Regional Co-ordinator Renay Rickard – both are experienced practice managers.
"We have appreciated the opportunity to join the PSG to make a difference and to work alongside other organisations and associations," says Rita.
"This comes at a time when the Scheme is being developed and reviewed for the benefit of all, including the veterinary profession, clients and patients. Revising the Scheme to fit all three sizes all has generated much discussion and is a considerable challenge. "
Both Rita and Renay work in accredited practices and have found the Scheme extremely useful for team bonding and discussion, and as a tool in working towards best practice. "As the revised Scheme start to take shape, we will be updating our members with regular reports on the website, e-group and via discussions, and welcome feedback from any members," adds Rita.
You can read about member organisations and their representatives, together with the representatives' biographies, in the PSS section of our website.
The Practice Standard (July 2014)