A new, modular Scheme, with greater potential for progression and marketing, is heading your way!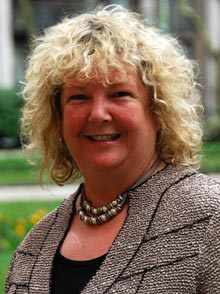 At its June 2013 meeting, RCVS Council gave approval to the development of a new structure for the Practice Standards Scheme (PSS). Over the past year the Practice Standards Group (PSG), chaired by Jacqui Molyneux (pictured right), together with the PSS staff team, have been working hard to develop the foundations for the revised Scheme.
Writing Groups have already drafted 16 of the 19 new modules (leaving Out of Hours and Emergency and Critical Care pending the 24/7 review) that will form the basis for the new Scheme.
These modules cover all areas in the existing PSS Manual, but with a new focus on behaviours and outcomes. The Group has also created a 'points' system for practices to qualify for additional awards that will allow for greater differentiation.
A detailed functional specification for a new IT system to support the new Scheme has also been developed, and an invitation to tender was undertaken in early 2014, with a supplier now selected. A similar tender exercise was carried out to appoint providers with relevant expertise in the recruitment and training of inspectors, again focusing on behaviours.
What does the new Scheme aim to achieve?
The proposals for the new Scheme have been designed to focus on all areas of the veterinary practice, including client experience and those aspects that impact upon the veterinary care of animals. It emphasises outcomes and behaviours and is not simply confined to considering the facilities and equipment at a particular practice.
The Scheme provides a pathway for practices to improve and to demonstrate where they excel. This greater differentiation will provide additional opportunities for practices to market themselves. Finally, the new structure will be clear and understandable to both the public and the profession.
What will the new Scheme look like?
Under the latest proposals Core, General Practice and Veterinary Hospital categories will remain as the base groups, but potentially with new terminology. Practices may also be inspected to see if they qualify for additional awards.
Within each award a practice would be designated as 'Good' or 'Outstanding' on a points system. Earlier proposals to designate practices as 'Silver' or 'Gold' were abandoned after communication with stakeholders and the public revealed that these categories created confusion and were perceived to reflect how much practices would charge their clients.
Under the new proposal, similar to Ofsted, practices would be free to market their awards as they chose, while being required to display their full report showing the standards by which they have been judged. So, for example, a practice might be General Practice – Small Animal with an Outstanding Award in Client Experience.
The modules that have already been developed will be grouped together in a series of clusters, which in turn will form the basis for these awards. Some modules will contribute to more than one cluster and, depending on the type of practice being accredited, the clusters will comprise different sets of modules. Moreover, not all clusters will necessarily be applicable to all types of practice. Practices must achieve a satisfactory standard within each of the applicable clusters in order to receive the base accreditation (Core, GP and Hospital).
Jacqui Molyneux, Chair of the Practice Standards Group, comments: "The flexibility of the modular approach is a fundamental advantage of the new Scheme, as it provides a clear pathway for practices to improve and it raises standards for patients by focusing on outcomes and behaviours. The proposed new Scheme also presents additional benefits to practices, including a professionally-trained inspectorate and designated IT system that will save practices and inspectors time."
What next?
On 5 June 2014, RCVS Council ratified the new structure of the Scheme. Work has subsequently begun to complete the remaining modules and to commission the development of the new IT system.
"I am delighted with the progress that we have made in reviewing the Scheme, but there is still much work to be done before its official launch in late 2015," says Jacqui. "Between now and then, we will be seeking opportunities to engage with members of the public and the profession regarding the development of the Scheme, and will be launching a consultation exercise. I would urge members of the Scheme and the profession to check the RCVS website and publications for the latest updates."
The Practice Standard (July 2014)