Introduction
Infectious disease outbreaks such as Foot and Mouth Disease can be devastating.
In addition, a variety of antimicrobial resistant and zoonotic bacteria such as MRSA are of increasing concern in veterinary healthcare.
Many organisms can cause serious and life-threatening infections, can readily colonise veterinary premises and can be spread by direct contact or poor hygiene.
Colonisation of in-contact humans can pose a public health risk and may result in dissemination into the wider community.
Effective infectious disease control methods are therefore vital.
Major risk pathways for contamination and infection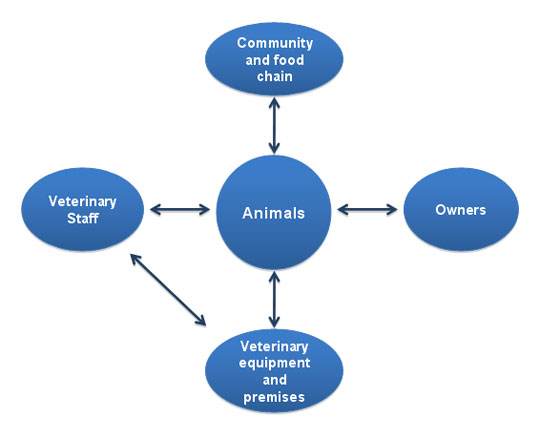 Hand-washing and disinfection
Hand-touch sites are most commonly contaminated and are therefore most important in transmission. Hand-washing is the single most effective hygiene measure.
Hand-washing means using a detergent scrub; disinfection is the simple use of alcohol etc without washing.
Alcohol gels are convenient but simple disinfection is only effective if hands are clean and dry – soiled hands must be washed first.
Hands should be washed and disinfected before and after handling any patient or its immediate environment.
Practice design should allow access to hand-washing facilities without having to touch anything.
Vets visiting farms and stables etc should carry hand washes and disinfectants with them.
Cleaning and disinfection
Equipment and surfaces must be thoroughly cleaned and disinfected between patients. Alcohol wipes are easy to use on equipment, but, again, won't be effective if these are soiled.
Practice design should facilitate cleaning, avoiding materials that can't be cleaned in high risk sites (ie use waterproof keyboards, laminated instructions and posters, white boards and impervious seats).
Vets again should ensure that equipment taken onto other premises can be properly cleaned and disinfected.
Cleaning should be performed according to strict rotas and protocols, divided into daily, weekly and monthly tasks, as visual assessments are highly unreliable.
Clinical waste must be placed in leak-proof yellow bags or sharps containers for incineration.
High standards of cleanliness and aseptic technique
Use simple uniforms that are regularly cleaned. Long hair should be tied back, sleeves rolled up, ties avoided, and wounds or skin lesions covered with waterproof dressings.
Protective equipment may be necessary for contact with body fluids, lesions and contaminated materials.
Theatre staff should be kept to the necessary minimum, and clothing and equipment should be clean and sterile.
Good surgical technique is important in minimising tissue trauma and infection
Antibiotics should not be routinely used to prevent post-operative infections.
Training and monitoring
All staff must be trained properly. Written protocols and guidelines clearly explaining protocols for cleaning, disinfection, barrier nursing and responsible antimicrobial use should be prominently displayed in the appropriate sites.
Client education helps reinforce good practice on hygiene and responsible antibiotic use (including the importance of good compliance).
It also reassures clients that you take hygiene and antibiotic resistance seriously – they see this in human hospitals and will expect similar standards.
Surveillance
Active screening of patients, staff and the practice environment is rarely indicated, unless as part of an epidemiological investigation of a specific outbreak.
Veterinary environments are not sterile - contamination with opportunistic pathogens is common and expected. Cleaning and disinfection is designed to reduce the environmental burden, not achieve sterility.
Active surveillance must have clear aims, a defined protocol and specific action in light of the findings. This should be discussed with epidemiologists and infection control experts before starting.
Managing animals with MRSA or other antimicrobial-resistant bacteria
Screening all cases prior to admission is not usually feasible in most practices. Specific risk factors for infections with antimicrobial-resistant bacteria include:
Animals from known positive households or with owners that have frequent healthcare contact
Animals with non-healing wounds
Animals with non-antibiotic responsive infections
Post-operative, practice-acquired or secondary infections
Admit known or suspected cases directly into a consultation room to avoid contamination and contagion in the waiting room. Movement and procedures should be minimised and, where possible, scheduled for the end of the day.
Discharging wounds should be covered with an impermeable dressing.
Using trolleys will help minimise contamination of corridors etc.
Contaminated rooms and equipment should be cleaned and disinfected before further use. Affected animals should be isolated as far as possible and barrier nursed.
Dr Tim Nuttall BSc BVSc PhD CertVD CBiol MIBiol MRCVS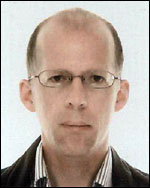 Dr Tim Nuttall graduated from the University of Bristol in Zoology and Veterinary Science in 1992.

After three years in general practice, he joined the dermatology service at the University of Edinburgh as a resident, where he gained the RCVS Certificate in Veterinary Dermatology and later studied for a PhD in the immunopathogenesis of canine atopic dermatitis.

He joined the University of Liverpool in 2001 as a Lecturer, and since 2004 Senior Lecturer, in Veterinary Dermatology.

Since 2006 he has also been Academic Sub-Dean of the School of Veterinary Science, and from 2011 is Head of Veterinary Education.

Tim has established and directs a busy dermatology clinic as well as an active research programme studying atopic dermatitis and microbial infections. He is the author of over 50 clinical and scientific publications, and has presented over 80 lectures throughout the world.

He is also a co-author of the second edition of 'A Colour Handbook of Skin Diseases of the Dog and Cat'.Tim has served on BSAVA, ESVD and DEFRA scientific committees, the International Committee on Atopic Diseases in Animals, is a scientific advisor to the Bella Moss Foundation and is a co-editor of Veterinary Dermatology.

Tim joined RCVS Council as a University of Liverpool appointee in 2011.
The Practice Standard (August 2011)