Celebrating a year of veterinary achievement
RCVS Day – the Royal College of Veterinary Surgeons' AGM and Awards Day – saw the investiture of the new President, Dr Jerry Davies, on 1 July 2011, at One Great George Street, London.
New President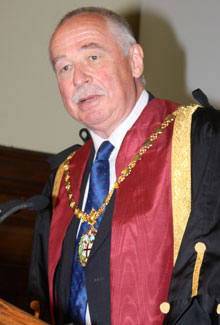 After graduating from the Royal Veterinary College (RVC) in 1974, Jerry Davies spent two years in its Department of Surgery as a House Surgeon.
After a brief spell in general practice, he returned to the RVC, gaining a PhD and a Diploma in Veterinary Radiology. He held the posts of Lecturer in Veterinary Radiology and then Senior Lecturer in Veterinary Surgery.
In the 1990s, Jerry founded a referral practice in Bedfordshire that later became Davies Veterinary Specialists.
The single-site practice provides specialist support to general practitioners across a wide range of small animal disciplines, employing 40 veterinary surgeons and 92 support staff.
Jerry recently stepped down as Managing Director, becoming Chairman, to allow more time for family and RCVS commitments, but continues to enjoy being an active member of the radiology section in the practice.
Jerry is an RCVS Recognised Specialist in Veterinary Diagnostic Imaging and a European Veterinary Specialist in Diagnostic Imaging.
He was awarded the British Small Animal Veterinary Association Simon Award for contributions to Small Animal Surgery in 2004.
Jerry was elected to RCVS Council in 2001 and served as RCVS Treasurer for four years. He has chaired the Preliminary Investigation and Planning and Resources Committees and the 24/7 Working Party, as well as sitting on other committees and working parties.
It is imperative that we do not dampen the enthusiasm and optimism of the talented young people who graduate from our veterinary schools each year
In taking on the role of President, Jerry paid tribute to his fellow Officer team and announced his intention to drop the prefixes of 'Senior' and 'Junior' to the role of 'Vice-President', so that the presidential team is better recognised as a unit.
Thus, Peter Jinman, outgoing President, became a Vice-President, as did Jacqui Molyneux. Dr Bradley Viner continues as Treasurer and Jane Hern as Registrar.
Jerry also outlined some of the areas he will be keen to address during his time as President, particularly in the current difficult economic climate: "Whenever possible, I will take the opportunity to remind our members that we are privileged to be able to work in such a diverse and fulfilling profession and that we should enjoy our work and be proud of what we do.
"It is imperative that we do not dampen the enthusiasm and optimism of the talented young people who graduate from our veterinary schools each year: they hold the key to the future success of the profession," he said.
Outgoing Senior Vice-President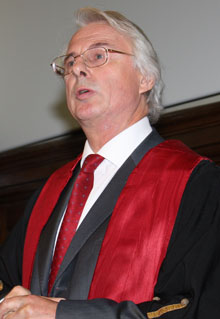 Professor Sandy Trees stood down as Senior Vice-President, with outgoing President Peter Jinman commenting: "Sandy has served on RCVS Council since 2000, as one of the University of Liverpool veterinary faculty's appointed members, and although he is now leaving the Officer team, we are lucky to have him on Council for a further four years as an elected member.
I would like to thank him for his dedication and valued contributions over the last three years.
Sandy will be retiring from the University of Liverpool in September, however, I know he will continue to be a tireless supporter of the profession for many years to come."
Before he left the Officer team, Sandy took the opportunity to announce the foundation of a major prize from the RCVS Charitable Trust, for those who have made "distinguished scientific contributions to the knowledge and understanding of infectious diseases of animals and thereby contribute to their control or eradication".
The prize is being made possible thanks to the generosity of the late Walter Plowright – "one of the foremost veterinarians of his time" – and his widow, Dorothy. Walter Plowright's development of a vaccine for Rinderpest contributed greatly to the eradication of the disease this year.
Annual General Meeting
RCVS Day falls into two parts: the AGM and the awards ceremony.
The AGM is the opportunity for members to ask questions, and this year several were submitted by Norman Leslie, who was unable to attend in person.
His questions, which were answered by the President, covered slaughter without stunning, the implementation of the new College database, decreased election turn-out and the new College logo.
A further question was raised by Council member Bob Partridge, who asked if, should the College wish to be as open and transparent as a limited company, it would be possible to publish the salary bands of senior staff, including the Registrar.
The President said that this would be looked into and that he would respond in due course.
Changes on RCVS Council
Roger Eddy, a past-President of the College, had served on Council for 20 years
The AGM also saw changes to RCVS Council and the Veterinary Nurses Council. Retiring RCVS Council members included Roger Eddy and Alison Bruce.
Roger, a past-President of the College, had served on Council for 20 years, spending time on all of the College Committees, including the Veterinary Nurses Council.
Alison has served as a lay member, appointed by the University of Glasgow, since 2002, and has been a valued Chairman of the Disciplinary Committee.
Re-elected Council members Professor Sheila Crispin, Dr Bob Moore, Mark Elliott, Lynne Hill and Beverley Cottrell were confirmed for further four-year terms, and Professor Sandy Trees, previously an appointed member of Council, re-joined as an elected member.
It was also announced that Professors Jo Price and Elaine Watson had been re-appointed by the Universities of Bristol and Edinburgh respectively for further four-year terms of office.
Professor Ewan Cameron, who had been appointed Dean of the School of Veterinary Science at the University of Glasgow, was confirmed as one of that University's two appointees.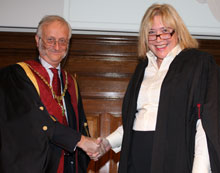 The second appointee to be announced was Professor Noreen Burrows, who replaces Alison Bruce as a lay member of Council.
Meanwhile, Dr Tim Nuttall and Professor Susan Dawson were welcomed as the two new University of Liverpool appointees.
Finally for RCVS Council, the two appointees from the University of Nottingham were formally announced as Professor Gary England and Dr Karen Braithwaite (pictured).
They will take up their positions when the Recognition Order for the University of Nottingham's veterinary degree is finalised by the Privy Council, expected over the summer.
Changes on VN Council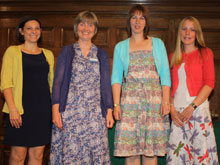 Meanwhile, Elizabeth Cox and Tanya Caley joined the Veterinary Nurses Council as elected members.
Elizabeth will serve a four-year term and Tanya a one-year term, as she replaced Dot Creighton, who retired early. Liz Branscombe was confirmed has having been re-elected for a further four-year term.
RCVS Council member Colonel Neil Smith took up the role of Vice-Chairman of VN Council vacated by Jacqui Molyneux, with Liz Branscombe continuing as Chairman and Kathy Kissick continuing as Vice-Chairman.
Two new appointed veterinary surgeons, Victoria Aspinall and Elizabeth Armitage-Chan, also took up their positions at RCVS Day.
All of the new members of VN Council were formally welcomed by Peter Jinman and Liz Branscombe, and thanks were also given to retiring members Dot Creighton, Jenny Thompson, Helen Torrington and Alan Hughes for their hard work and commitment to VN Council.
Honours and awards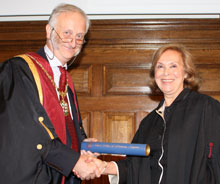 Outgoing President Peter Jinman conferred a range of awards, including an Honorary Associateship upon Professor Soraya Shirazi-Beechey, Professor of Molecular Physiology and Biochemistry at the School of Veterinary Science at the University of Liverpool.
Professor Shirazi-Beechey's research focuses on the intestinal physiology and microbiology of the horse, and has gained international recognition.
"She is an inspirational teacher and an outstanding mentor of postgraduate research students," said Peter.
An Honorary Fellowship was awarded to Dr James Kirkwood (in his absence), Chief Executive and Scientific Director of the Universities Federation for Animal Welfare and of the Humane Slaughter Association.
Peter described Dr Kirkwood as having made "an outstanding contribution to advancing standards in veterinary and welfare science throughout his career".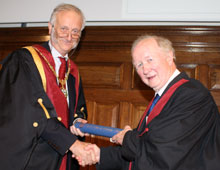 A second Honorary Fellowship was awarded to RCVS past-President Des Thompson, whom Peter described as "one of the most enthusiastic members of the veterinary profession", with a career characterised by innovation.
Although Des retired from practice in 2009, after nearly 50 years, his thirst for knowledge is unabated: he achieved a Masters degree in Clinical Governance the week after retiring and continues to be a regular attendee of national and international conferences.
A past-President not only of the RCVS but of many veterinary associations, Des is currently Chairman of Veterinary Northern Ireland.
"Des remains a great source of inspiration for all veterinary surgeons, and a great ambassador for the profession to the general public," said Peter.
Fellowships were awarded by the President to RCVS Council member Dr Chris Chesney and Dr Thomas Holland, and to James Carmalt and Graham Duncanson in their absence.
Veterinary diplomas were awarded on a range of subjects, from Animal Welfare Science, Ethics and Law to Zoological Medicine, and veterinary nurses were presented with their Diplomas in Advanced Veterinary Nursing (Small Animal).
VN Golden Jubilee
This year marks the 50th anniversary of the veterinary nursing qualification – essentially the birth of the VN profession – and to celebrate its Golden Jubilee, the VN Council launched a new award to recognise an exceptional contribution to the veterinary nursing.
Jean Turner was presented with the inaugural award at RCVS Day.
Jean Turner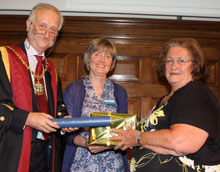 Jean has been involved in veterinary nursing for almost as long as the training scheme has been in existence and, together with her husband Trevor, she has trained and supported veterinary nurses at their practice for many years.
An active member of the British Veterinary Nursing Association for many years, Jean is currently a member of the VNJ editorial board.
"Jean has spent her life contributing to veterinary nursing," said Peter Jinman, congratulating her on her award, "she has worked tirelessly behind the scenes and is an outstanding ambassador for the veterinary nursing profession."
Jill Dent
A second Jubilee award, for a lifetime contribution to veterinary nursing, was made to Jill Dent.
VN number 17, Jill began her veterinary nursing career just after the Second World War in the days before formal training was available.
She worked in practice for many decades and joined the Register in 2007, becoming the longest-serving VN to do so.
The President presented a certificate to her in recognition of her long and dedicated service to veterinary nursing.
Trust awards
Lifetime contribution awards were also made to two individuals who had given outstanding service and support to the RCVS Charitable Trust over a long period.
Norman Comben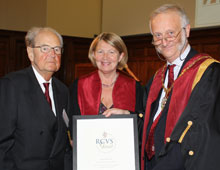 The President commended Norman Comben, a founder member of the Veterinary History Society, who has given freely of his time to the Trust Library for many years.
He was the driving force behind the enormous task of reassessment and valuation of the Historical Collection – which involved identifying and checking some 3,000 items – as well as being key to the success of the Library's adopt-a-book scheme, which has raised over £17,000 and conserved over 140 titles.
The President thanked Mr Comben for his "stalwart and invaluable guidance".
Bruce Vivash-Jones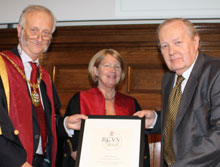 The second lifetime achievement award was given to Mr Bruce Vivash Jones, Senior Vice-Chairman of the Veterinary History Society.
Over many years, Bruce has given invaluable support and guidance to the Trust and in recent years led a project to identify and catalogue the paintings, photographs and artefacts belonging to the College.
He is currently, with the Trust Librarian, co-authoring a number of articles telling the story of some of these items in RCVS News, promoting the heritage of the profession to a wider audience: the Trust "prizes his advice and guidance," said the President.
BSAVA book donation
Finally for the Trust, Andrew Ash, President of the British Small Animal Veterinary Association, presented the Trust's Librarian, Clare Boulton, with a generous selection of books in memory of the association's past-President Noel Ormrod.
President's address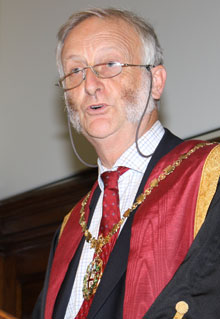 The President then made his outgoing address.
He described how the one-year tenure of the President is akin to that of a relay team member or, perhaps, thanks to the odd "hospital pass", a rugby player passing the ball along the back line.
However, he noted that the issue of lengthening the presidential term had been considered by a group of past-Presidents and the conclusion was that although an extended period was desirable, it was not practical, particularly in tighter economic times, for a practising veterinary surgeon to be away from their position or post for more than a year.
Peter discussed the complexities of activities at Belgravia House, for example, registering veterinary surgeons from all 27 members of the EU, as well as the traditional ex-Commonwealth countries and beyond, and also noted that disciplinary cases were becoming increasingly complex, "so that hearings that lasted a few days now might take weeks, with expert witnesses and QCs on both sides".
He believed it was time to review the disciplinary process to ensure "fairness and human rights are protected but escalating costs, for all, are contained," a theme he said was shared by other regulators.
He recounted a year in which dangerous dogs and dog breeding were firmly on the agenda – but questioned "why only dogs?" – as well as discussions around certification, medicines and the future of veterinary legislation.
The Minister of State, Jim Paice MP, has asked the College to make proposals for a regime for veterinary services to replace the current Act
He reminded the audience that the Minister of State, Jim Paice MP, had asked the College to make proposals for a regime for veterinary services to replace the current Act, and Peter said that such a framework should, ideally, "avoid the need for overly complex or detailed legislation, and follow the principles of better regulation".
On the topic of modernisation, he reflected that this needed to extend to the way that the College does business in an electronic age:
"There is a mismatch between the instant world of the practising vet and the world of regulation and law, and this leads to misunderstandings and frustration on all sides," he said, before warning that "decisions made in haste may be repented at leisure".
He outlined that a group of past-Presidents was reviewing the systems and procedures of the College to ensure the organisation remained effective and efficient.
The President concluded his address by touching on the role of the RCVS as 'Royal College' as well as regulator, and the importance of the RCVS – as regulator and scientific body – and the representative bodies coming together to give the profession the leadership it deserved.
Guest speakers
There were two guest speakers at this year's event, linked by the theme of Vet2011, the banner under which the 250th anniversary of the foundation of the world's first veterinary school, at Lyon, is being celebrated.
Between them, the two speakers covered the history of veterinary education from 1751 through to the modern day.
The President also welcomed as a special guest Dr Stephane Martinot, Dean of the Lyon Veterinary School.
Christophe Buhot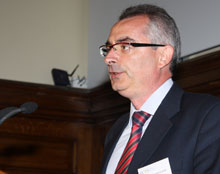 First, Dr Christophe Buhot, President of the Federation of Veterinarians of Europe and a member of the board of Lyon Veterinary School, took delegates back to the 18th century and the foundation of the first veterinary school by Claude Bourgelat.
In a year when the eradiation of Rinderpest is being celebrated, it was notable that the first school was established in reaction to the need to control Rinderpest, TB and Foot and Mouth, diseases which were having a serious affect on the agriculture of the day.
Although the veterinary students in the first cohort may have looked a little different from today's – nine were aged between 11 and 14 – some of the diseases they learned to tackle remain familiar.
Following the establishment of Lyon, a further 13 schools grew up in Europe between 1762 and 1798, many of which, including the Royal Veterinary College, founded in 1792, still exist today.
Gary England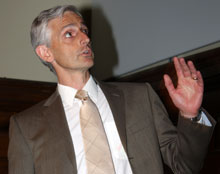 The second speaker, Professor Gary England, Foundation Dean of the veterinary school at the University of Nottingham, picked up the story and took the audience forward to the way that students are taught at Nottingham, the newest UK veterinary school.
He described how there was a blank canvas – literally a bare field – at the start, and that this enabled the University to consider what skills it would like its graduates to have, and work backwards to structure a syllabus to meet this.
Professor England explained that particular importance was given to transferable skills and peer learning (for example, fourth-year students are involved in the teaching of second-years).
Professor England was keen to stress that those talking about veterinary education in a political sense often tended to refer to their own experiences, but that things had changed:
"All of our students have laptops and many of our educational resources are electronic," he said, citing the University's 'MooTube' resource.
He concluded by identifying that, in the current age of increasing student fees and debt, students' choices are influenced by the perceived value of their degree.
In this context, Professor England said: "We can celebrate that how we deliver veterinary education in the UK is second to none."
As part of the Vet2011 celebrations, Dr Buhot presented outgoing President Peter Jinman and Professor Gary England with sets of commemorative stamps produced by the French post office.
All photographs courtesy of Veterinary Record