29 July 2011
Nineteen of the 21 overseas-qualified veterinary surgeons who have succeeded in passing the Royal College of Veterinary Surgeons (RCVS) Statutory Examination for Membership this summer were on Wednesday (27 July) admitted to the RCVS Register and may now practise in the UK.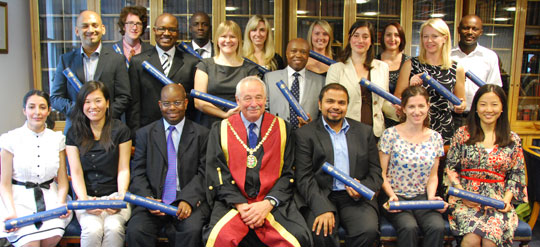 The RCVS President, Dr Jerry Davies, welcomed the registrants, their friends and families, at a ceremony held to mark the occasion at Belgravia House in London, and presented the new members with their certificates.
"Those registering today gained their primary veterinary qualifications from twelve different countries between them and it is to their credit – and with the support of their friends and families – that they have also succeeded in passing the RCVS Statutory Examination for Membership to join the UK veterinary profession," says Jerry.
"Today's ceremony is truly international and reflective of the many and varied routes that are now available for people to become UK veterinary surgeons – wherever they hail from."
Mr Ejaz Hameed, a newly-registered veterinary surgeon from Pakistan, said: "The standards of UK small animal practice are very high and I want to work as a veterinary surgeon here so that in the future I can help to improve standards of small animal surgery in Pakistan."
Two other overseas-qualified veterinary surgeons who passed the exam this summer and are entitled to join the Register were unable to attend the ceremony.