5 September 2016
On 26 July we held the first meeting of our Brexit Presidential Taskforce. The Taskforce was established following the EU referendum result on 24 June, with the central purpose of putting the profession in charge of its future by maximising the opportunities and minimising the risks of Brexit.
Almost half of veterinary surgeons registering in the UK qualified from veterinary schools elsewhere in the EU. While the Government issued a statement in mid-July clarifying that as yet there has been no change to the rights and status of EU nationals in the UK or UK nationals in the EU, it is not clear whether this situation will continue once the UK has left the EU.
The Brexit Presidential Taskforce will consider, and proactively engage with, the many possible changes that could shape the future of the UK veterinary profession due to Brexit.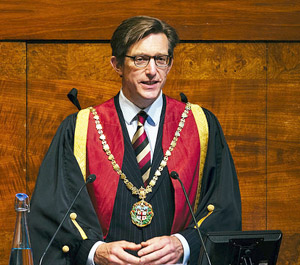 The members of the Taskforce are: the President of the College, Chris Tufnell (pictured right); the CEO, Nick Stace; the Treasurer, Amanda Boag; Operations Director, Corrie McCann; Junior Vice-President, Stephen May; Acting Registrar, Eleanor Ferguson; Chair of Education, Susan Dawson; Head of Education, Chris Warman; Council member Stuart Reid; Chair of VN Council, Liz Cox; and Director of Strategic Communications, Lizzie Lockett.
The terms of reference include: considering how EU regulations currently impact the regulation of veterinary professionals in the UK, and making recommendations as to which should be maintained; looking at the issue of mutual recognition of veterinary graduates in Europe; considering workforce requirements and the implications of a new system of immigration; understanding the implications for the current RCVS agenda; considering whether a proactive RCVS agenda can influence any new UK legislation; reconsidering the College's existing international strategy; and studying the financial impact on the College.
It was also agreed that we should maintain communications with the British Veterinary Association and coordinate approaches where appropriate.
Dr Chris Tufnell, our President, says: "Brexit has profound implications for our professions. The Presidential Taskforce is exploring all implications and will develop proposals that will seek to mitigate the risks and maximise the benefits that can flow to the veterinary professions and to animal welfare.
"We are working closely with representative bodies and others so that the veterinary professions have a coordinated and well executed plan in place. We are in discussions with all relevant Government departments, working collaboratively and constructively, ensuring that our voice is heard and our influence is felt."
The next meeting will be held on 15 September, with the third one scheduled for 9 November.