25 January 2017
Our Mind Matters Initiative held its inaugural 'Research Symposium' at the University of Edinburgh on Friday 20 January 2017 giving academics and researchers working in the field of veterinary mental health the opportunity to share their insights both with each other and members of the professions.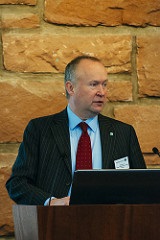 The Symposium was organised with Rosie Allister, Chair of Vet Helpline and Director of Vetlife, and introduced by Mind Matters Initiative Chair and former RCVS President Colonel Neil Smith (pictured right) around the theme of 'understanding and supporting veterinary mental health' and was attended by nearly 100 people.The morning comprised presentations from three plenary speakers.
The first talk was delivered by Professor Stephen Platt from the University of Edinburgh regarding the concept of 'suicide clusters' and how it might relate to the veterinary professions; the second, by Professor Debbie Cohen (pictured below right) from Cardiff University, was about disclosing and assessing mental ill-health amongst medical students and medical professionals; and the final talk was delivered by Chris O'Sullivan from the Mental Health Foundation about protecting and improving mental health at work.
The afternoon session comprised a series of four 'short-talk streams' in which a number of academics and researchers gave 15-minute talks on their area of study. These covered a variety of topics including the humour-types within UK veterinary practice, the transition from vet student to veterinary surgeon, embedding resilience training into the veterinary curriculum, how veterinary nurses cope with stress in practice and the effectiveness of mindfulness-based webinars for veterinary professionals.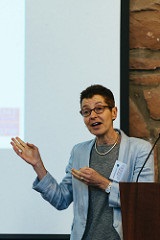 The day was wrapped up with a workshop led by Lizzie Lockett, Director of the Mind Matters Initiative, in which delegates were asked to prioritise what they thought were the most important areas of veterinary mental health research for the future.Suggestions included the impact of physical exercise on mental health, what is 'normal' in terms of perceptions of stress in practice and whether a peer-support programme could work on a national basis.
Speaking of the day Lizzie added: "The Mind Matters initiative Research Symposium was a ground-breaking day that gave those working and with an interest in this area to opportunity to share research, ideas and lived experience. A collaborative and positive spirit was evident throughout the day and this shows that a community is being developed in this area which can share and discuss ideas , develop solutions and conduct future research.
"While research into this area may be at a relatively early stage ,the day demonstrated that there is a very real desire to improve our knowledge and, by doing so, better understand the causes of mental ill-health in the veterinary professions and the treatment and preventative measures that can be put in place to reduce the stigma and help people before they reach a crisis point."
For further information about the Mind Matters Initiative and the Research Symposium visit www.vetmindmatters.org and follow @vetmindmatters on Twitter.