Updated 12 April 2012
Introduction
25.1 The Animals (Scientific Procedures) Act 1986 (A(SP)A) is likely to be extensively amended by transposition into UK legislation of European Directive 2010/63/EU on the protection of animals used for scientific purposes. Revised supporting guidance will be provided once changes have been made to the A(SP)A. However, in the meantime, this current guidance will continue to apply.
Interface between the Veterinary Surgeons Act 1966 and the Animals (Scientific Procedures) Act 1986
25.2 This supporting guidance was issued after consideration by an RCVS Working Party and consultation with the Home Office. It is accepted that it is for the RCVS to provide guidance to its members on what is recognised veterinary practice. RCVS advice is intended to assist veterinary surgeons, veterinary students, teachers in veterinary schools and in extra mural practices, and Home Office inspectors and officials. It is accepted, however, that the Courts interpret the law and that RCVS guidance is no more than advice from the professional regulatory body. Moreover, it is also recognised that RCVS guidance cannot cover all current situations and that new questions will have to be answered in the future.
Recognised veterinary practice
25.3 Interpretation of the term 'recognised veterinary practice' is the key underlying all three elements in the terms of reference.
25.4 The term 'recognised veterinary practice' in section 2(8) of the A(SP)A should be interpreted as 'procedures and techniques performed on animals by veterinary surgeons in the course of their professional duties, which ensure the health and welfare of animals committed to their care'.
25.5 The following definitions are used to clarify the terms:
Procedure and techniques are terms used for a veterinary investigation, diagnosis or treatment including any prophylactic measures taken to prevent or control disease.
A veterinary surgeon is a registered member of the RCVS. Some delegation must be permitted consistent with the criteria for delegating acts of veterinary surgery set out in the report of the RCVS Deregulation Working Party 1996.
Professional duties are those carried out by, or under the responsibility of, a veterinary surgeon when his or her normal work (including, private and academic clinical practice and professional duties in animal welfare organisations, government service and commerce) involves techniques and procedures applied to animals committed to his or her care.
25.6 In all circumstances, the individual has to consider the primary purpose and whether he or she is acting in a professional capacity as a veterinary surgeon or as a research scientist. Although the procedures and techniques may be identical, analysis of the purpose for which they are applied should help the veterinary surgeon to determine if the intervention is of direct benefit to the animal or its immediate group (ie others of the same species) and therefore recognised veterinary practice, or, if the intervention is for an experimental or other scientific purpose and controlled by the A(SP)A.
25.7 Recognised veterinary practice does NOT include:
Experiments using animals primarily for research where the procedure is not part of normal veterinary clinical practice or a veterinary clinical investigation.
Deliberately exposing animals, including those used in unprotected control groups, to trauma or infectious agents where there is a risk to health and wellbeing.
Use of an animal in teaching, if the procedure would not normally be used to teach acts of veterinary surgery as defined in Veterinary Surgeons Act 1966, section 27.
Clinical investigations which would not be for the benefit of that animal or its immediate group.
25.8 When animals are used for experimental or other scientific purposes, veterinary surgeons are no different from non-veterinary surgeons, which means that Home Office authorities under the A(SP)A must be sought. Failure to comply with Home Office regulations by deliberately misinterpreting the recognised veterinary practice exemption under section 2(8), will be treated as infringements of the A(SP)A and may be regarded as professional misconduct subject to full RCVS disciplinary action.
The use of animals in clinical teaching
25.9 Under the terms of the Veterinary Surgeons Act, the RCVS is responsible for monitoring veterinary education and professional training and is well placed to give guidance to the profession on ways in which animals are used in clinical teaching and clinical investigation. The responsibility for the animal's welfare lies with the supervising veterinary surgeon, and any 'cruelty' would be in breach of the Protection of Animals Act 1911 (1912 Scotland) and subject to possible prosecution.
25.10 Veterinary graduates will have been properly trained at the time of registration and continuing professional development is a professional obligation for veterinary surgeons throughout their careers. The training will, in most instances, be achieved using clinical cases where there will be an individual veterinary surgeon responsible to the animal and the owner.
25.11 The teaching of skills to veterinary students is controlled by the Veterinary Surgeons (Practice by Students) (Amendment) Regulation 1993 made under the Veterinary Surgeons Act 1966. Such use of animals applies to all veterinary students in their clinical years and is the responsibility of the clinicians in charge. The procedures and techniques are limited to those that would be undertaken by the supervising veterinary surgeon in the course of his/her professional duties. The purpose is not experimental or scientific, but the student may acquire competence in those techniques that he/she will use as a qualified veterinary surgeon.
25.12 Animals used for training and teaching purposes would normally be those presented to veterinary surgeons in the course of their professional activities.
25.13 Open discussions with colleagues at the local level should be encouraged. The ethical review process in the veterinary schools required under the A(SP)A would be a suitable forum for considering the ethical issues on the appropriate use of animals in clinical teaching.
25.14 It is recommended that the RCVS should be the focus for professional advice in the UK and that a mechanism should be set up for collating information and identifying precedents. Based on this evidence, RCVS guidance should be under constant review.
25.15 The use of cadavers for teaching and investigation is encouraged. If, having obtained the owner's informed consent, the animal is euthanised by overdose of an anaesthetic agent and confirmed as dead by the cessation of the circulation, the cadaver can be used for teaching purposes. This preparation would be recognised veterinary practice.
25.16 Perfusion of animals before death to obtain fixed anatomical specimens is not considered recognised veterinary practice and should be regulated under the A(SP)A.
25.17 Acts of veterinary surgery may be carried out on animals by veterinary surgeons to train non-veterinary surgeons in certain procedures covered by Schedule 3 or Orders made under the Veterinary Surgeons Act. For example, veterinary nurses, and technicians employed in cattle embryo transfer teams.
Clinical investigation accepted as recognised veterinary practice
25.18 When conducting clinical investigation (without A(SP)A authorities), care must be taken to ensure that appropriate veterinary treatment and care is provided for all animals used in the study. The use of untreated 'control' groups needs careful consideration, to ensure that no avoidable suffering results as a consequence of withholding treatments. The inclusion of placebo treated 'control' groups will require A(SP)A authority if likely to cause pain, suffering, distress or lasting harm to the animal.
25.19 The use of any novel treatments must reasonably be expected to result in a similar or better outcome than that following conventional treatment. The veterinary surgeon must have some background knowledge of the treatment in order to make a professional judgement. When what is to be done has an experimental component, authority under the A(SP)A may be necessary.
25.20 When there is a desire to pursue scientific investigation on clinical cases and with the owner's informed consent, it may be possible to bring the animals into A(SP)A authority and discharge them at the end of the investigation.
25.21 Veterinary surgeons conducting clinical trials within the terms of an Animal Test Certificate (ATC) issued by the Veterinary Medicines Directorate do not generally require A(SP)A authority.
25.22 The circumstances described above highlight the interface between the Veterinary Surgeons Act and the A(SP)A with respect to clinical investigation. In these and similar circumstances, veterinary surgeons are invited to approach the RCVS and a Home Office inspector at a preliminary stage to determine whether A(SP)A authority is needed.
Diagnostic tests and application of new therapies
25.23 The working party was asked to consider drawing up criteria that could be used to determine the point at which a veterinary diagnostic test moved from the conceptual stage, when it should be regulated under the A(SP)A, to the point at which there was a clinical application and it might be regarded as recognised veterinary practice. During the course of discussion it was decided to examine the same criteria as they might apply to the introduction and application of new therapies into recognised veterinary practice.
25.24 There are many examples where veterinary surgeons apply diagnostic tests and techniques to clinical cases that have already been developed for use in other species or human patients. Similarly, treatments used in human medicine may be introduced for use in animals where potential benefits might be expected for the individual animal or its immediate group, for veterinary public health or for environmental protection. This is legitimate.
25.25 Unless regulated under the A(SP)A it would NOT be acceptable, and may bring the profession into disrepute, for a veterinary surgeon to use an animal in the development of a diagnostic test or a new form of treatment where:
the test or treatment has not previously been made available to the veterinary profession and there is no background evidence to predict a clinical application in the species or other veterinary benefit;
there is deliberate deception that would enable a veterinary surgeon or a non-veterinary surgeon to avoid regulation under the A(SP)A.
Flow chart together with non-exhaustive examples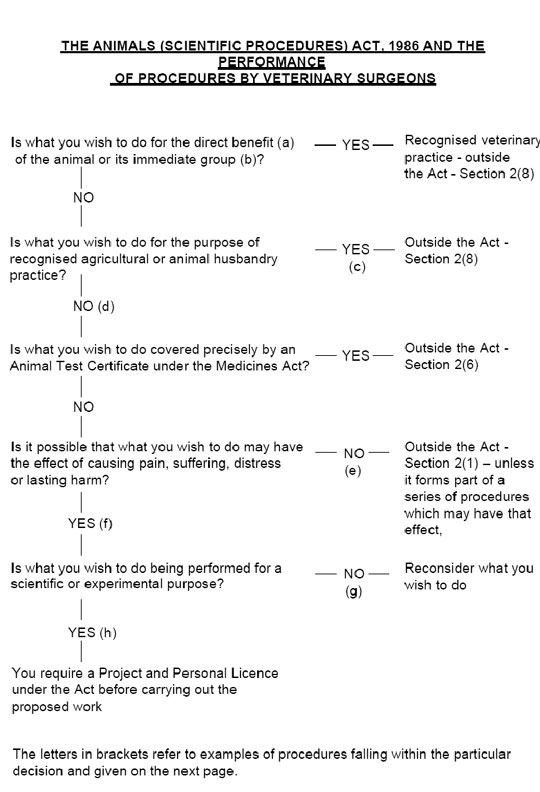 Examples
25.26 This list is illustrative and not exhaustive. RCVS advice should always be sought in cases of doubt.
a. Direct benefit
Taking blood samples from an animal, or animals within a herd, to assist in clinical management, eg diagnosis, metabolic profile.
Taking a series of biopsies from an animal for diagnosis and monitoring the efficacy of treatment.
Giving veterinary treatment to an experimental animal when treatment is for the animal's benefit.
Use of drugs in ways other than described in the product licence but for the direct benefit of the animal concerned
NB anaesthesia for a scientific purpose is regulated.
b. Immediate group
The herd or flock under the care of the veterinary surgeon.
The pack of dogs or colony of cats under the care of the veterinary surgeon.
The source animal in blood transfusion for use in clinical cases, but not on a larger commercial scale.
c. Recognised practice
Embryo transfer for expansion of colony, herd or flock for commercial reasons or to improve health status.
Testing for halothane susceptibility in pigs.
Restraint in commercial systems for husbandry purposes, eg stall-tied dairy cows.
Laparoscopy for artificial insemination.
Laparoscopy for observation of the gonads for sexing birds for non-experimental reasons.
Removal of the gonads or hormone administration for control of reproduction in non-experimental situations.
Single housing of calves within the provisions of Welfare Codes.
d. Not recognised practice
Laparoscopy for observation of the ovaries for a scientific purpose.
Feeding of diets at variance with normal practice, eg to induce the signs of dietary deficiency.
Embryo transfer for scientific purposes.
Harvesting blood or blood products on a larger commercial scale (see supporting guidance to the Code of Professional Conduct)
Colostrum deprivation or early weaning for scientific purposes.
e. No adverse effect
Feeding of diets at variance with normal practice but which are not intended to result in deficiencies or excess of any dietary component.
Restraint for up to 14 days where expression of normal behaviour, other than locomotion, is not significantly restricted.
f. Adverse effect
Any penetration of the integument, eg use of a needle.
Any procedure requiring sedation or anaesthesia.
Maintenance in restraint which significantly restricts expression of normal behaviour, eg close head restraint.
Feeding of haematophagous insects.
g. Think again
Taking into account the provisions of such things as the Veterinary Surgeons Act, the Veterinary Surgeons (Practice by Students) Regulations, 1981, the Animal Health Act, 1981, the Medicines Act 1968 and the Wildlife and Countryside Act, 1981.
h. Scientific purposes
Taking blood for blood products or laboratory use.
Taking blood for teaching purposes.
Taking biopsies to study the pathogenesis of a condition rather than to diagnose disease or monitor treatment in an animal.
Inoculation of material into an animal for diagnosis of disease in another animal.
Use of substances, drugs, etc other than as described in the product licence, for research/development and not covered by an Animal Test Certificate.
RCVS March 2012