The RCVS Codes of Conduct are available as an app for smartphone users.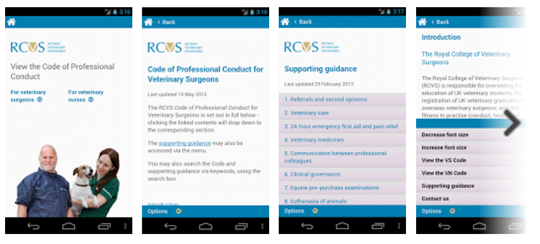 The RCVS Code app allows smartphone users to access a mobile-friendly version of the RCVS Codes of Professional Conduct for both veterinary surgeons and veterinary nurses, together with 28 chapters of supporting guidance.

Once the app is installed, both the Codes and the supporting guidance will be accessible, even when you don't have a network connection. So it should now be a lot easier to keep the Code on hand, even when you are out and about.
To install the app on an Android smartphone or tablet, visit Google Play, and look out for the shield icon.
To install on an iPhone or iPad, visit either the Vet Code or VN Code pages on your mobile and follow the instructions.