Biography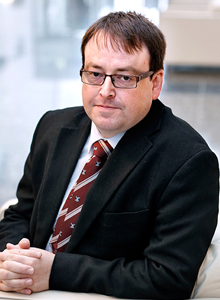 David Argyle graduated from the University of Glasgow. After a period in practice he returned to Glasgow to complete a PhD in Oncology/Immunology.
He was Senior Lecturer in Clinical Oncology at Glasgow until 2002 when he became Head of Veterinary Oncology at the University of Wisconsin-Madison, USA.
In 2005 he returned to Edinburgh University to the William Dick Chair of Veterinary Clinical Studies.
In 2009 he became the Dean for postgraduate research and international research for both medicine and veterinary medicine and in 2011 he became the Head of the Royal (Dick) School of Veterinary Studies.
He is an RCVS/European specialist in Veterinary Oncology, Diplomat of the European College of Internal Medicine in Oncology and co-scientific editor of the Journal of Veterinary and Comparative Oncology. His major research interests are cancer and stem cell biology.
Council Member category
Appointed (University of Edinburgh): 2011 - 2015
Committee membership
Declaration of Interests

Directorships

Director, Dogs Trust (Ireland)

Shareholdings

None

Consultancies

Ad hoc consultancy for Zoetis

Appointments to other bodies

Editor of Journal, Blackwell Wiley

Membership of other veterinary or allied organisations

Member, European Society for Veterinary Oncology

Employment

University of Edinburgh

Qualifications (other than veterinary qualifications listed in the Register)

Interests relating to immediate family or close friends

None

Other relevant information

None