Kathy Kissick MAEd RVN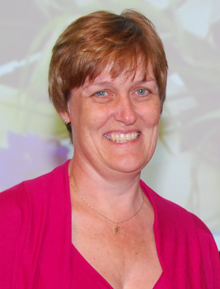 Kathy qualified as a RANA in 1983 after spending her training years in a small animal practice in Stockport, Cheshire and then progressed to a Head Nurse position in Preston, Lancashire where her passion for teaching started to develop.
Kathy took part-time teaching positions in Liverpool, St Helens, and Preston and throughout her teaching career has kept her practical skills up to date in veterinary practice but her passion has always been teaching and seeing students achieve their full potential. She graduated with a Masters degree in Education in 2008.
Kathy's position at Myerscough College has been varied; she started as a part-time animal care instructor and progressed through the ranks to become a Learning Manager and to see Veterinary Nursing and Farriery stand alone as a department in its own right.
Kathy is responsible for 28 members of staff and in excess of 350 veterinary nursing students ranging from Animal Nursing Assistants to Advanced Veterinary Nurses and Undergraduates and Equine Veterinary Nurses, and 145 Farriers ranging from pre-farriers to BSc farriers – an interesting mix of students!
Kathy believes in opportunities for all and that training routes must be available for students to progress in different ways depending on their circumstances, including those returning to the profession.
"We must maintain high standards of nursing at all levels and the way to inspire students and qualified nurses is to lead by example in the educational establishments and to set achievable standards that our students aspire to meet".
Kathy lives on and manages the Myerscough Connemara Pony Stud with her husband Andrew alongside a menagerie of pets and recuperating animals from the College and Lancashire Constabulary Mounted Branch.
Any spare time she has is spent in her house in Alderney in the Channel Islands, or riding side saddle and driving her Connemara ponies.