Please note: this consultation has now closed.
Technology is changing veterinary medicine and impacting on how veterinary services are delivered. While these advancements can offer opportunities to improve the delivery of veterinary care they also present many new challenges for the veterinary profession.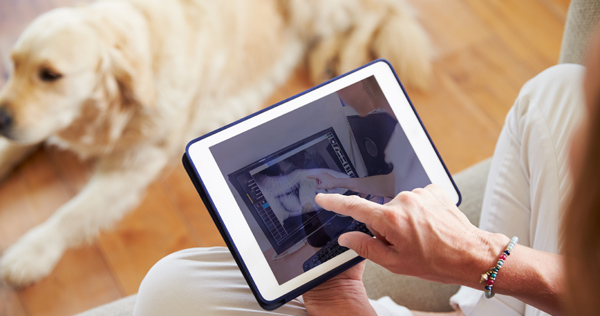 Telemedicine – the use of electronic communication and information technologies to provide clinical healthcare remotely – is one of these emerging areas of practice in the veterinary sector. Telemedicine extends to the provision of veterinary services by video-link, text, instant messaging or telephone, or by any other remote means.
Historically, telemedicine mostly referred to specialists being available for remote consultation with general practitioners. These types of services, as well as some other forms of telemedicine services, are already well established in the veterinary sector.
However, the industry is changing rapidly and new forms of telemedicine are developing every day. There are increasing numbers of businesses offering telemedicine services such as video consultation websites and chat apps directly to clients. Added to this, innovative products such as wearable technology for pets are rapidly advancing.
Use of telemedicine services is also expanding quickly. Research firm IHS Technology forecasts the number of patients using veterinary telemedicine services globally to grow from 350,000 in 2013 to 7 million in 2018.
There are many potential benefits associated with veterinary telemedicine, eg
allowing access to veterinary care for hard-to-reach groups (both geographically and economically);
enabling more accurate triaging of emergency cases;
facilitating easy access to specialist advice; and,
allowing clients to show symptoms as they happen (especially useful for cases that appear 'normal' in the consulting room).
However, it is important that these types of services are conducted within an appropriate legal and regulatory framework in order to safeguard the health and welfare of animals, and to maintain public confidence in the veterinary profession.
We recognise that there may be potential risks associated with telemedicine as well as potential benefits, and wishes to gather evidence in relation to both of these.
Telemedicine in other sectors
Veterinary regulators in other countries are similarly grappling with the concept of veterinary telemedicine. However, the laws and professional regulations that govern this part of veterinary medicine appear to be fairly undeveloped and fragmented.
Some overseas jurisdictions consider that veterinary telemedicine can only be practised within the context of a veterinarian-client-patient relationship (VCPR) and take the view that this cannot be adequately established by telephonic or other electronic means, ie via telemedicine, alone.
Others consider that, once established, a VCPR could be maintained between clinically necessary examinations via remote types of consultations (such as telephone or video-link), while others do not specify any requirements at all.
Electronic communications are also playing a growing role in the human healthcare sector, with regulators such as the General Medical Council providing guidelines to doctors on related issues such as remote prescribing via telephone, video-link or online.
Why we want to hear from you
We recognise the potential for both established and new technologies to improve the provision of veterinary medicine, where appropriate. However, the use of telemedicine services needs to be supported by an appropriate legal and regulatory framework.
The purpose of this consultation is to gather feedback from veterinary surgeons, veterinary nurses and the public to help us identify potential risks associated with telemedicine, identify areas where telemedicine may be useful to address the needs of both clinicians and the public, and to formulate new professional standards and guidance on this emerging area of practice.
The consultation process for veterinary professionals
The consultation comprises an online questionnaire, enabling you to provide your views on a number of key themes. It should take no more than 20 minutes of your time. There is a specific questionnaire for veterinary professionals, and a separate short questionnaire for members of the public.
We ask that you provide your name and some other personal details. Personal information you provide will not be published, and you will have the option of indicating if you would like it to remain confidential for FOI and other disclosure purposes. You will also have the option of responding anonymously if preferred.
Please submit your response by 5pm on Friday, 24 March 2017.
We are also writing to veterinary and veterinary nursing organisations directly to seek their views.
If you are a company providing telemedicine technologies or predominantly telemedicine-based veterinary services, please contact us at telemedicine@rcvs.org.uk if you would be happy to discuss your views on telemedicine with the RCVS Standards Committee either in person or via video-link.
View the consultation for veterinary professionals

The consultation process for members of the public
We are running a separate, shorter, consultation for members of the public, the details of which are available via www.rcvs.org.uk/technology:
View the consultation for members of the public

What happens next?
All responses will be reviewed by the RCVS Standards Committee with a view to developing new professional standards and guidance for the profession.
When we have collated all responses, we will invite a number of individuals and organisations, on a date to be agreed, to present and discuss their views with the RCVS Standards Committee either in person or via video-link.
Any questions?
If you have any questions about the consultation please email: telemedicine@rcvs.org.uk