Biography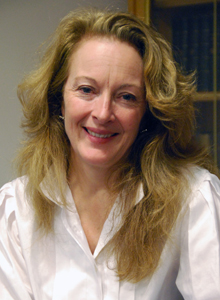 Katie Goldie graduated from Bristol in 1982, working in small animal practice for two years and then the PDSA in London for one year, before returning to Glasgow University to complete her Master of Veterinary Medicine degree in ear, nose and throat surgery and her RCVS Certificate in Veterinary Radiology.

Katie then returned to the PDSA in Glasgow until 2008. While she was there she acted as staff representative and became interested in employment law as relating to the veterinary profession.

Since 2003, Katie has worked as a locum, but her main work is for out-of-hours service providers .

As a former member of RCVS Council, she has sat on the Public Affairs Committee, Advisory Committee, Examination Appeals Committee and VN Council. She has contributed to the 24-hour Emergency Cover Working Party.

Outside of work, Katie has three daughters who all ride horses. She has recently decided to join them and now competes against them at the local riding club (with occasional success).
Committee membership
Declaration of Interests

Directorship

N/A

Shareholdings

N/A

Consultancies

N/A

Appointments to other bodies

Committee member of local riding club.

Membership of other veterinary or allied organisations

Member, BSAVA & VDS
Events Secretary, Strathclyde Riding Club

Employment

1978-1982: Bristol University
1985-1986: Glasgow University
1986-2006: PDSA
2003-2006: Vets Now
2007-2009: Vets 999 (locum)
Self-employed locum

Qualifications (other than veterinary qualifications listed in the Register)

N/A

Interests relating to immediate family or close friends

N/A

Other relevant information

N/A